We have compiled for you the most famous tastes that you can experience in Porto. If you're ready, let's get started!
1 – Tripas à Moda do Porto – Porto's Most Traditional Tripe Dish
This stew of cow tripe, smoked meats, and white beans is considered Porto's official dish and is typically served with rice. Its origin is related to the time of geographical discoveries when Henry the Navigator was responsible for the preparation of the Portuguese expedition to Ceuta. The Prince asked the inhabitants of Porto for help in preparing this expedition, and they did not disappoint. All the meat that the city possessed was cleaned, preserved, and used to supply ships bound for Ceuta. The locals left only tripe, which has become one of Porto's most characteristic dishes over time.
2 – Alheira – Northern Portugal's Most Famous Sausages
Alheira sausages are white, smoked traditional sausages from Trás-os-Montes' northern region. This Porto dish is widely available in restaurants and is typically served with fries, rice, and a fried egg.
3 – Francesinha Sandwich – The Most Popular Dish in Porto
The name Francesinha translates to "little French girl", but the dish itself has not a lot in common with France. Francesinha is a sandwich in which ham is intertwined with bacon, sausage – beef steak, and all of this is additionally covered with yellow cheese and dipped in beer sauce.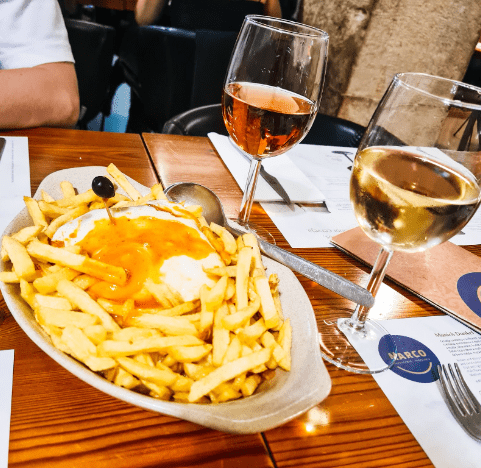 4- Bolinhos de Bacalhau – Portugal's Popular Fried Cod Fish Cakes
Bacalhau, or dried and salted codfish, is a national treasure of Portugal. This dish is so popular that there are over 365 ways to prepare it and over 1,000 ways to serve it. Bolinhos de Bacalhau are typically made from a mixture of potatoes, bacalhau (codfish), eggs, parsley, onion and sometimes a hint of nutmeg. They are also commonly referred to as "salt cod fritters" or "salt cod croquettes".
5- Pasteis de Chaves – Puff Pastry with EU Protection
This half-moon-shaped pastry is filled with a mixture of minced veal, bread, and onions. The tradition of preparing pastel de Chaves dates back to 1862, and according to a popular legend, the first person to sell these unique pastries was Teresa Feliz Barreira, the founder of Casa do Antigo Pasteleiro, the first establishment where pastel de Chaves could be bought.
6 – Broa de Avintes – The Must Eat Bread in Porto
Broa de Avintes is one of Porto's most famous breads. It comes from Avintes, a small town near Porto on the other side of the Douro River.
7 – Petiscos – Portuguese Tapas
Petiscos are Portuguese "tapas," or small bites that are usually smaller versions of larger dishes. They are typically meant to be shared.
8 – Tarte de Amêndoa or Almond Tart – One of Northern Portugal's Most Famous Desserts
Tarte de Amêndoa is a delicious almond tart that goes perfectly with black coffee. The almond is one of the most widely cultivated fruits in the Douro region, accounting for 60% of all almond production in Portugal. Almonds are typically grown alongside olives and vines.
9 – Jesuítas – Traditional Portuguese Pastry Named After Jesuit Priests
Jesuitas are traditional Portuguese cookies that you can find almost everywhere. Made of shortcrust, buttery dough, most often in a shape of triangles. The cookies are layered with egg yolk cream and covered with a sweet meringue. Like many desserts in Portugal, have religious names because the majority were made in religious convents.
10 – Toucinho Do Céu – Northern Portugal's Popular Almond Cake
A delicate cake of almonds, sugar and yolks. It owes its name most likely to the fact that one of the ingredients in the original recipe was lard. The cake is popular all over the country, but its recipe differs slightly depending on which region of Portugal it is baked in.